There's a sustained determination amongst the breeding team here at LIC's Head Office in Hamilton, New Zealand, to ensure our farmers get access to the most-elite genetics that both deliver on the national breeding objective and last within the herd.
While the motivation is to create herds that are more efficient converters of feed-to-profit, we're always mindful that a balanced approach is paramount.
The balanced approach to breeding not only delivers profit on farm, but ensures that resulting cows have good workability traits, the physical capacity to compete (i.e. get their share of feed), and an ability to walk, get in calf, and last in the herd. Over the years farmers consistently ask LIC to breed bulls that focus on  this balance. To help achieve this, LIC incorporates an internal index called the Livestock Selection Index (LSI) within our already robust breeding programme to ensure we graduate just such bulls.
The LSI is highly-correlated to breeding worth (BW), but it allows the selection team to allocate weightings differently across specific traits – such as a heavier focus on udder conformation, for example. It is also used in conjunction with other data that allows the breeding team to focus on quality cow families, consistent maternal performance, conformation, and longevity traits.
Ultimately the LSI assists in the delivery of the elite genetics our customers or farmers want and expect.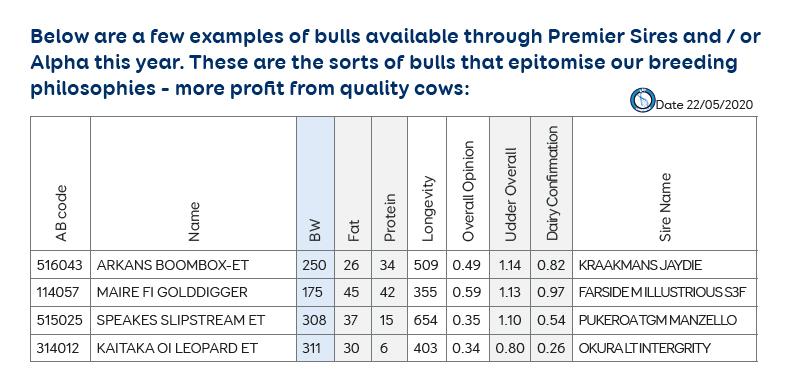 The application of the LSI index can be powerful
To illustrate this point, and to show how powerful the application of LIC's genomic selection tool really is, a snapshot of LIC's Sire Proving Scheme with respect to (i) BW and (ii)udder overall are represented in the graphs below.
Not only do these graphs reflect a great story with an impressive trend line in BW over time, but they are also an excellent example of the influence of LIC listening to our 'farmer voice'.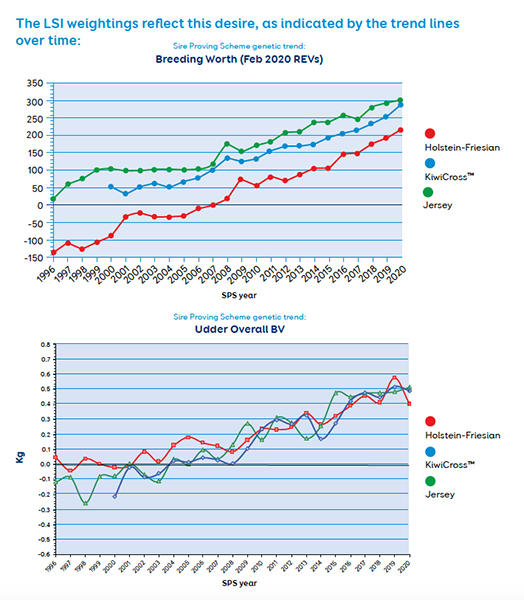 If we consider liveweight, the majority of LIC customers express their ideal cow as a medium-sized Holstein Friesian, a consistent KiwiCross™ bull, and a larger Jersey cow.
Taking a long-term view, the LSI is continually reviewed to align with the changing needs and wants of farmers.
It takes ten long years and a large investment of $40,000, from initial contract mating, to daughters of the resulting proven and marketed sire being widely milked in customers' herds. A lot can change over this period of time, and we need to be thinking well in advance to make sure these bulls are fit for purpose when farmers milk their daughters in years to come.
In addition to the LSI the team also use genomic evaluation in the mix, giving them a formidable tool-kit. Genomic advances continue to add real value to the breeding scheme. The new genomic model now utilised by LIC is state-of-the-art and we have the utmost confidence in the tool.
Dairy cattle genomics continues to progress worldwide and having this 'step-change' improvement in the technology should allow the industry to move at a faster rate. It's interesting to note, for example, that LIC now purchases more young bulls sired by genomic sires than those sired by daughter proven genetics.
With spring calving underway, the newest bulls' daughters are now milking, and it is not long now before we get the first good look at the next crop of graduates to take their place on the leader board. Exciting times as we look to the future – bring it on!
LSI tool helps bring best bulls forward
LIC Australia Sales and Operations Manager Mike Rose, finds the LSI tool also gives him the edge when deciding which LIC bulls will be the very best to bring forward to Australian dairy farmers. "The LSI gives greater weighting to traits that Australian farmers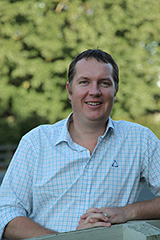 really value, like udders and capacity. Bulls that have a higher LSI are generally the ones that are popular in Australia, this especially applies to genomic sires which don't have reliability of data behind them".
To read the article in our latest Green to Gold.