Cornish herd manager, James Major shares some insight into his winning formula after he took out the LIC High Fertility Award at the recent Cream Awards.
As farm manager at Hole Farm, Egloskerry, for A L Sayers and the Carswell Group, James adopted a more consistent breeding policy over the past five years to reduce cow size and produce 'easy care', highly fertile, small crossbred cows. Farm advisors questioned such an approach, suggesting he should instead move to higher yielding, larger cows to cover the costs of an autumn system, where cows are housed at peak. However, James is adamant that his animals are more efficient. The 700-cow herd yields 5817 litres a cow a year, and he believes the smaller size means they make less mess out at grass. They can also be stocked at a higher rate. The aim is 2 cows per hectare on the grazing platform, but this is currently 2.4 cows/ha due to TB issues. The farm is on an organic, Arla Garden contract.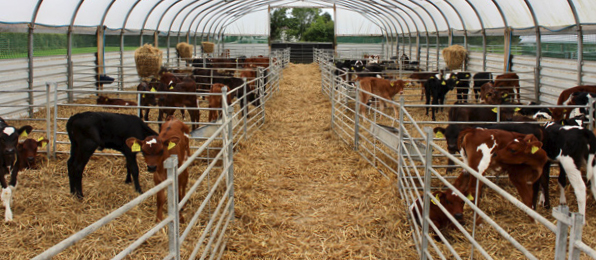 The Friesian and Holstein cow base has gradually been bred to KiwiCross™ bulls, with the gains in herd uniformity coming through this year. "They don't get lame, they don't get mastitis and they just turn grass into milk, whether that's grazed or as silage," he adds. His perfect cow is deep bodied, with short legs, black feet and a 'tidy udder'. Strong feet is a must considering the furthest paddock is 3km from the parlour. Four KiwiCross™ LIC bulls are used with varying proportions of Jersey and Friesian. They are chosen for good somatic cell counts, milk fat and protein, legs, feet and teat placement. "Breeding is pretty important for fertility," he explains. "I just want to get more cows calving in the first thrree weeks, and certainly in six weeks – and get those replacements born as early as possible to maximise days in milk."
Last five years sees empty rate halved
In the last five years, empty rate has halved from 14-15% at the end of the service period, to 7% and the block has condensed from 14-16 weeks. Without the ongoing challenges of TB, Mr Major thinks this would be closer to 8-9 weeks.
The tightening of the block has been achieved by breeding replacements from the most fertile cows and also by culling for fertility. "You've just got to be ruthless," says Mr Major.
At breeding time, James admits the team are 'pretty strict' when it comes to heat detection. Everyone has a notebook to record cows seen bulling, while a Whatsapp group enables the team to take a photo of a freeze brand so James knows which cows to check.
Tail paint is used for heat detection with orange tail tape also being put on any cow seen bulling so they're easier to pull out for service.
Maintaining organic status
"Our organic status means we've got to be onto it to make sure cows are healthy and cycling. It's front loading the block and making sure cows have 2-3 cycles before mating," says James. Maintaining and monitoring cow body condition is also seen as another influencer to cow fertility. "Body condition is very important for fertility. If they're too lean, they'll be working too hard. If they're too fat, they're lazy."