Are you concerned about the footprint your dairy cows are leaving on the environment? LIC has been working hard to develop a modelling system that can be used to quantify emissions and excretion, the result is their HoofPrint® index.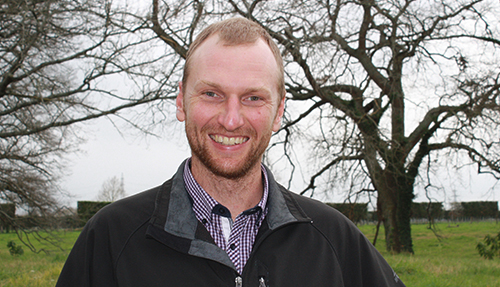 Tony Fransen, environment and welfare manager, explains how it works:
Enteric methane and urinary nitrogen loss from a dairy farm to the environment is inefficient. It can be damaging to water courses, contributes to greenhouse gas emissions and has a negative impact on the community and consumer perception of agriculture, wherever you farm in the world.
Enteric methane makes up around three- quarters of agricultural greenhouse gas emissions on a pastoral dairy farm. Enteric methane is directly proportional to the amount of feed consumed by the animal. This means to drive efficiency for methane we want to maximise milk production for every kilogram of feed consumed on farm. 
Managing nitrogen, particularly in a high quality, high nitrogen pasture diet enjoyed by cattle in New Zealand for example, has challenges. There are times of the year when the high nitrogen content of pasture means that the cow's nitrogen intake significantly exceeds her physiological demands, and the excess is excreted, primarily through her urine.
Nitrogen cannot be created or destroyed by the cow, whatever she ingests must be either partitioned into productive outputs or excreted. Nitrogen enters the cow through her diet, with a lactating cow on average over a full season partitioning approximately 50% in urine, 20% in milk and 30% in her dung.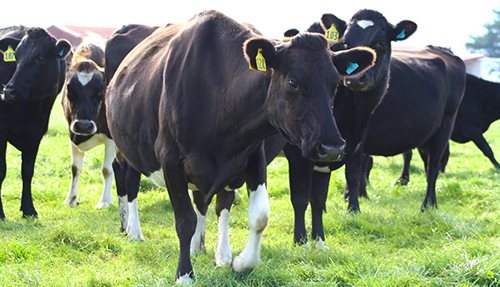 Across the year the daily level of nitrogen intake and output will change as pasture protein and cow milk production levels fluctuate. Maintaining the balance between N in and N out is important.
Increasing N use efficiency and reducing urinary nitrogen leaching is a key goal for the dairy sector, and much current research, including Dairy NZ's seven-year Low Nitrogen Livestock programme is looking at ways to help achieve this.
Using genetic information and recognised agricultural greenhouse gas emissions modelling methodology, LIC can assess and rank bulls for the expected environmental impact of their progeny in this index. This will, alongside LIC's leading genetic options and management tools, help farmers to reduce their environmental impact per kg of milk solids while maintaining productivity.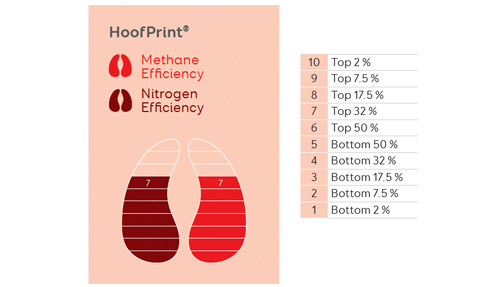 It's a 10-point rating system based on the modelled lifetime production relative to lifetime emissions and excretion generated. This system models the predicted lifetime environmental footprint for all AE enrolled AI dairy bulls born since 1 January 2009. In 2020 this represented 4415 bulls.
Represented across all dairy breeds, it gives accurate insights to help farmers breed cows with a lighter environmental footprint, and to produce less methane and nitrogen per kg milk solids.
Six individual breeding values are used to calculate the expected levels of production, growth, calving events, and the removal of each animal. These are liveweight, milk volume, milkfat, protein, fertility and total longevity.
Higher genetic merit animals, on average, perform better when ranked under the HoofPrint® index and the modelling has been based on the 'Methodology for calculation of New Zealand's agricultural greenhouse gas emissions' developed by NZ scientists in line with the Kyoto protocol requirements.
The ranking system is from 10 to 1 with 10 being the highest ranking (lowest environmental impact per kg product) and 1 being the lowest (highest environmental impact per kg product). And to ensure only the very best bulls are able to achieve a 10 point ranking, only 2% of all bulls in this elite reference population can be awarded a 10 point rating at any one time.
And it's worth pointing out that increases in BW correlate with lower methane and urinary nitrogen output per kg of milk solids produced. Genetic gain has already delivered significant environmental efficiency benefits to the sector. For example, every NZ$10BW increase gives 1.7g less urinary N/KgMS and 2.0g less methane/KgMS. Over 30 years of LIC Premier Sires (a team of bulls used by most NZ dairy farmers) has given 13% reduction in methane/ KgMS and 16% reduction in urinary N/KgMS."
The main focus areas for NZ research are:
Dietary changes to balance nitrogen intake
Breed to partition or distribute nitrogen with lower risk to the environment
Methods to manage the urine patch after deposition
LIC's new HoofPrint® index will, for the first time, provide farmers with accurate insights for bulls on the relative lifetime urinary nitrogen and enteric methane efficiency of their progeny.
This article published in our Autumn 2021 Green to Gold publication.