Success with insemination
This is a three-part process involving:
The farmer -heat detection
The technician – semen placement
The cow – cycling correctly/on heat.
Many factors help set up a cow for strong heats and mating success once in the milking herd. Early calving cows have more time to resume cycling post-calving and those meeting body condition score targets at calving have higher three-week submission rate and 6-week pregnancy rate.
Efficient heat detection
Many factors help set up a cow for strong heats and mating success once in the milking herd. Early calving cows have more time to resume cycling post-calving and those meeting body condition score targets at calving have higher three-week submission rate and 6-week pregnancy rate.
Two types of heat detection errors occur:
Heats can be missed
Heats can be falsely identified, ie 'invented'.
The missed heat is the more costly error to the farmer as it results in 21 lost days in milk next season, laterborn calves and less recovery time for the cow before the following mating period commences.
Cows with weak heats can be tricky to detect and heat detection aids can be a big help with finding these girls. Invented heats are less costly with no chance of conception, wasted semen, and as mating progresses, the risk of lost pregnancies when pregnant cows are remated. If you are unsure, look for additional signs of heat and at past mating dates. Either way, maintaining accurate heat detection throughout the whole mating period is important.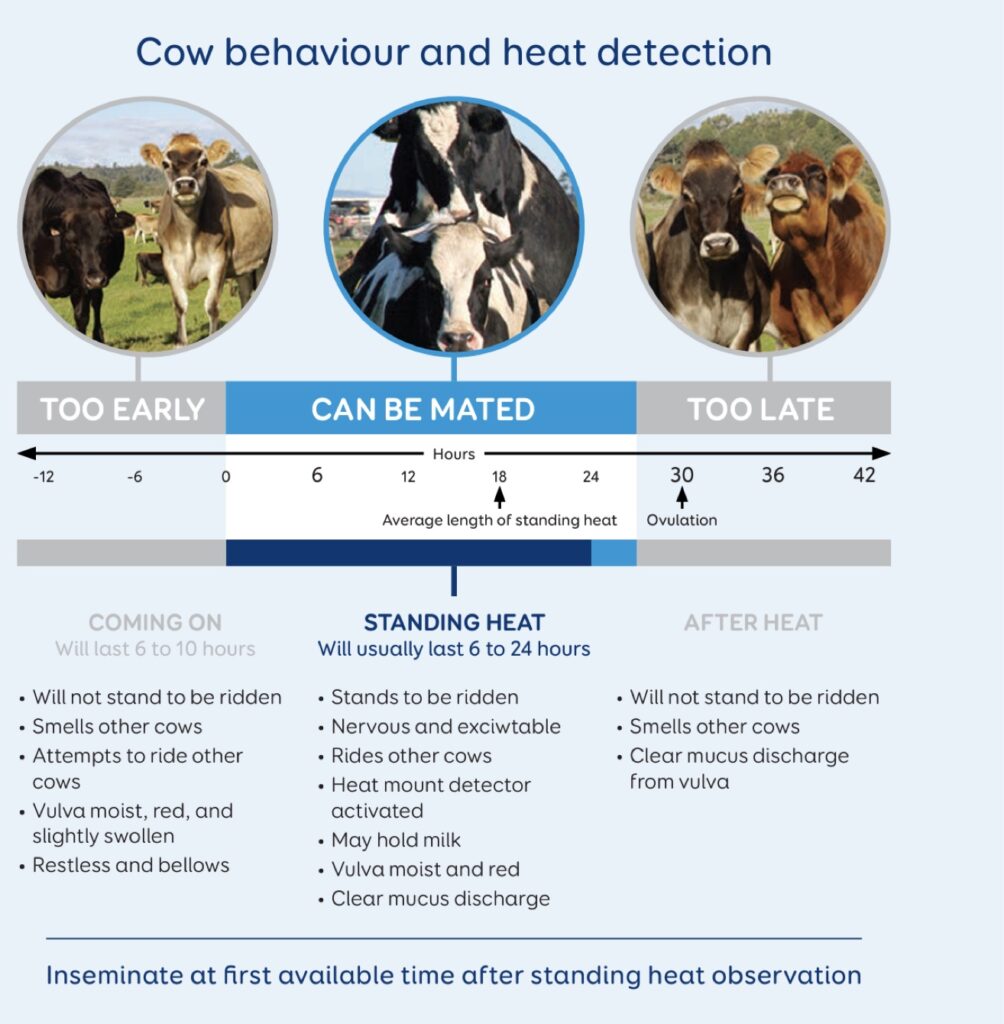 AI loading and insemination
The success of your AI mating season starts at your AI tank. Correct semen handling procedures from tank to cow are critical for good conception rates. Your cows will never get in-calf if you compromise the semen, no matter how good your heat detection or insemination skills may be.
Remember insemination is a twostage process: 
Guiding the AI gun to the entrance of the cervix
Gently manipulating the cervix onto the AI Gun. Executing the insemination process efficiently reaps the rewards of all your hard work in getting the cow to that point.
Records monitoring and review
Record keeping throughout this season's mating will be key to accurately assessing your mating results and your ability to identify effective strategies and potential improvements for next season.
Accurately record all AI and natural mating details against each cow as soon as possible after mating, noting all the details on each semen straw including bull name, bull code and batch number.
LIC is always working on how it can help farmers make small improvements day in, day out, and we are always striving to deliver improvements on farm.
Pre-mating checks
The DairyNZ KPI for 6 week in calf rates is 78%. Cows in a block calving herd are in a race against time to calve, resume cycling and get back in calf again within the first six weeks of mating, to remain a profitable animal within the herd. The question is, how do we best achieve this?
On the surface, pre-mating heat checks may seem an arduous task, with added cost to your repro budget, but the benefits of pre-mating heat checks far outweigh any disadvantages associated with labour and expense.
Someone once told me it was easy to tell if a cow is bulling without the need of heat detection aids. In part, this is true, however my question to that person was how do you easily tell if the animal has not been bulling?
This is one of the biggest advantages of pre-mating heat checks, easily highlighting animals that have not resumed cycling post-partum. Identifying these animals after the first 3 weeks of mating, means they are far less likely to get in calf within the first six weeks. However, identifying these animals before the planned start of mating means you have time to get them cycling and be served within the first six weeks of mating.
Now let's say it's day 10 of mating, cow number 125 comes into the dairy and a member of your staff is unsure of her heat. If her pre-mating heats are recorded, you can reference this in deciding whether to mate her or not (whether she falls within the 18- 24 day cycling window). This can be particularly helpful in spring calving herds experiencing inclement weather during mating where activity within the herd is reduced. Thus ensuring cows with weaker heats are detected and reducing semen wastage on cows not in heat.
Identifying cows that have cycled more than once prior to mating is useful in selecting appropriate candidates for sexed semen, to achieve better non- return rates.
Pre-mating detection gets staff into the right headspace for mating. It's an opportunity to train new staff in heat detection and insemination and reinforces mating protocols for your team. Come mating time, your staff's heat detection will be on-point, with heats and the associated 21 days in milk less likely to be missed.
It can be as easy as painting up all the cows to identify those that don't cycle. Put early energy into getting these cows on track – particularly with any intervention – and complete it early to reap the financial rewards and focus your staff ready for mating.
Pre-mating best practice
Start early, at least 35 days (5 weeks) or more, prior to planned start of mating. Apply a tail paint and/or Scratch Patch/ Heat Patch Plus and observe heats. Repaint cows that have cycled with a secondary colour and note down her date seen in heat.
You can use different colours representing each week within the cycle to easily see if you are on target for 3-week submission rates. Use your on-farm software or a Whatsapp/ Messenger group to record heats.

Using a mating chart is also an excellent tool as a pre-mating resource to record pre-mating heats. By recording premating heats through these tools it allows more accurate heat detection further into mating by having a point of reference to confirm a true or a false heat.
Talk to your local District Manager to find out more.
Identify the cows that have not cycled (still have the first coloured tail paint) 10 days prior to planned start of mating and implement your usual protocols for non- cycling cows, to get them mated early. If you have any concerns about not hitting submission rate targets, speak to your vet for advice and support on what you can do.